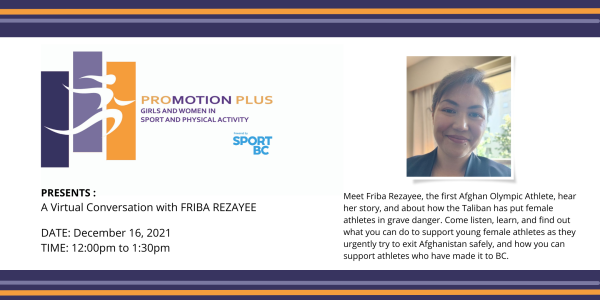 ProMOTION Plus and Sport BC Present a Virtual Conversation with Friba Rezayee
about Female Athletes in Afghanistan
For Immediate Release
Sport BC believes in the power of sport for all and through ProMOTION Plus we are working to ensure that gender equity is a priority in the amateur sport sector. Supporting these goals, we are pleased to present a virtual conversation with Friba Rezayee to learn more about her experience and her passion for supporting the female athletes of Afghanistan in the country and here in Canada.
The discussion will cover a broad range of topics including how when the US, Canadian and other western forces pulled out of Afghanistan at the end of August, the lives and hopes of Afghan girls and young women were catapulted into uncertainty and fear.  Overnight, girls were barred from school, women were sent home from their jobs, and those who had publicly advocated for women's rights were forced into hiding.
Among those were the Afghan Women's Judo Team, five young women who have competed internationally and stand as role models of women's strength and autonomy for girls throughout the country.
At this virtual event, you will hear from Friba Rezayee, the very first female Afghan athlete to compete in the Olympics. She is the founder of Women Leaders of Tomorrow, an inspiring non-profit dedicated to empowering young women through education and sport. And now, urgently, working to rescue the Afghan judo team and all female athletes before the Taliban finds them.
Erin Wilkins with ProMotion Plus will be moderating the conversation with Friba, followed by a Q and A with the event attendees. Come listen, learn, and find out what you can do to support young female athletes as they urgently try to exit Afghanistan safely, and how you can support athletes who have made it to BC.
DATE/TIME                  Thursday, December 16, 2021
TIME                               12:00pm – 1:30pm
LOCATION                    Zoom (link will be sent closer to the event)
REGISTER                    https://www.eventbrite.ca/e/promotion-plus-a-conversation-with-friba-rezayee-tickets-222434095367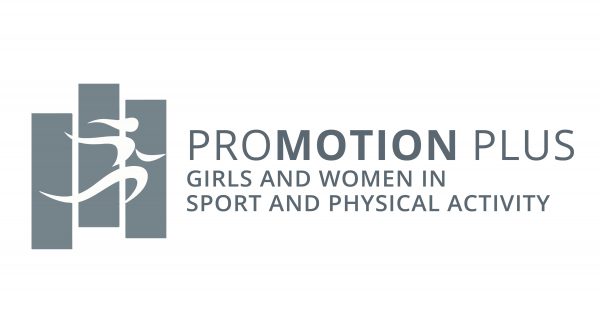 Donate to Support
ProMOTION Plus believes in gender equity in British Columbia sport. ProMOTION Plus has been committed to increasing opportunities for girls and women in physical activity and sport since 1990, supporting female athletes, coaches, officials, volunteers, and administrators reach their potential. Under the umbrella of Sport BC, ProMOTION Plus is strengthening its impact by delivering expertise in gender equity and recognition to Sport BC members and the community at large. We are doing this through our communication activities, education initiatives, and specialty programs.
ProMOTION Plus has partnered with the BC Amateur Sport Fund to raise funds to help cover program costs.  Your support will help keep registrations costs affordable for programs and increase access. To make a donation please visit (donations of $20 or more are eligible to receive a tax receipt). http://support.bcamateursportfund.org/P0104